Website development isn't just about making your client' site look pretty, function well, and be user friendly. It is also making sure from the start that the site has good SEO, is relevant to their industry, and has a good place for content so that internet marketing can be truly effective.
The first step is to make sure the domain name meets four basic criteria.
It should be short, no longer than 16 characters.
It should be simple.
It should be easy to spell.
It should be easy to type.
How do you choose a striking domain name that meets these criteria? First, open up a domain name search tool. Then as you come up with ideas, you can search to see if that domain is even available.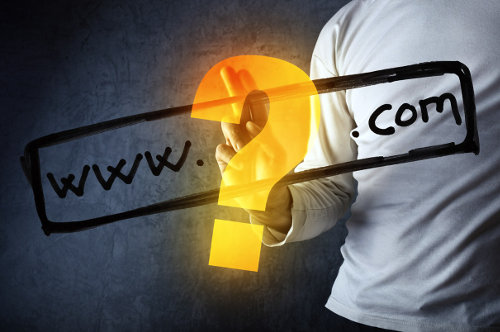 Make sure the Domain Name is Aesthetically Pleasing
This is one of the reasons domain names should be short. Long domain names simply don't look as professional, and also don't fit as well in email signatures, on business cards, and on other marketing materials.
If the name of your business is long, consider how you might shorten or abbreviate the name, or choose a name related to what you do instead of who you are.
Don't Use Numbers or Hyphens
Using symbols or numbers make a domain name too complex, and hard for users to remember. It is too easy for your name to be mistyped or the hyphen skipped, causing users to give up searching for your site. Keep your domain name free from the clutter of letters and numbers.
Choose a Unique Name
Don't choose a domain name that is too close to that of another business or popular website. You may end up with the wrong type of traffic. Worse, if your domain name is similar to that of one of your competitors, your customers may end up on their website instead.
Be Sure the Domain Name Cannot Be Taken the Wrong Way
If you are going to use abbreviations or shorten the brand name to make the domain name work, be sure it cannot be taken the wrong way. Make sure the abbreviation does not stand for something undesirable, or when you run the business name together it does not accidentally spell something else.
For instance, no one wants to be the abbreviation for the American Ski Society or get the kind of traffic that comes to Big Al's Online, whose domain name reads bigalsonline.com.
Use a .com Extension
You can purchase other extensions if you want to protect the name of your site and redirect the traffic from them to your primary site, but your primary domain should be a .com unless you are a non-profit (.org) or an educational institution (.edu).
This makes it much easier for users to remember your website name and to find you.
When developing a website, there are many factors to consider, but one of the first is the domain name. It is the first impression customers have of a business., and is the beginning of the user experience.